Karawang is one of the fastest-growing industrial areas in Indonesia, attracting many local and foreign investors. However, rapid industrialization also brings challenges such as environmental degradation, pollution, and social issues. That's why Artha Industrial Hill (AIH) is committed to creating an environmentally friendly Integrated Industrial Estate that balances economic development and environmental protection.
Artha Industrial Hill Is A Green and Sustainable Industrial Estate in Karawang. AIH is not only an industrial estate, but also a smart city that fosters innovation and collaboration among its tenants. By supporting industry 4.0, Artha Industrial Hill helps businesses to adopt advanced technologies such as artificial intelligence, big data, cloud computing, internet of things, robotics, and automation. These technologies can enhance the productivity, efficiency, quality, and competitiveness of businesses in various sectors, such as manufacturing, logistics, e-commerce, and services.
Artha Industrial Hill is committed to creating a green and sustainable industrial estate that contributes to the economic development and environmental protection of Indonesia. By choosing Artha Industrial Hill as your business partner, you can enjoy the benefits of a world-class industrial estate that supports industry 4.0.
AIH is located in Karawang, West Java, about 60 km east of Jakarta. It covers an area of 390 hectares and offers various facilities and services for industrial tenants, such as ready-to-build land for factories, warehouses, offices, residential areas, and commercial areas. AIH also provides infrastructure such as roads, electricity, water supply, wastewater treatment, telecommunication, and security.
AIH has succeeded in attracting many domestic and foreign investors, especially from South Korea. Several companies that have operated at AIH include:
PT DONG JIN TEXTILE
PT BUKWANG TEXTILE
PT LSAG CABLE INDONESIA
PT BAIKSAN INDONESIA
PT TAMFINDO MITRA MANDIRI
PT SUNGEEL HIGHTECH INDONESIA
PT ILSAM GLOBAL INDONESIA
GBLIGHT INDONESIA
HIGHTECH COMPANY (UNDISCLOSED)
WAREHOUSE COMPANY (UNDISCLOSED)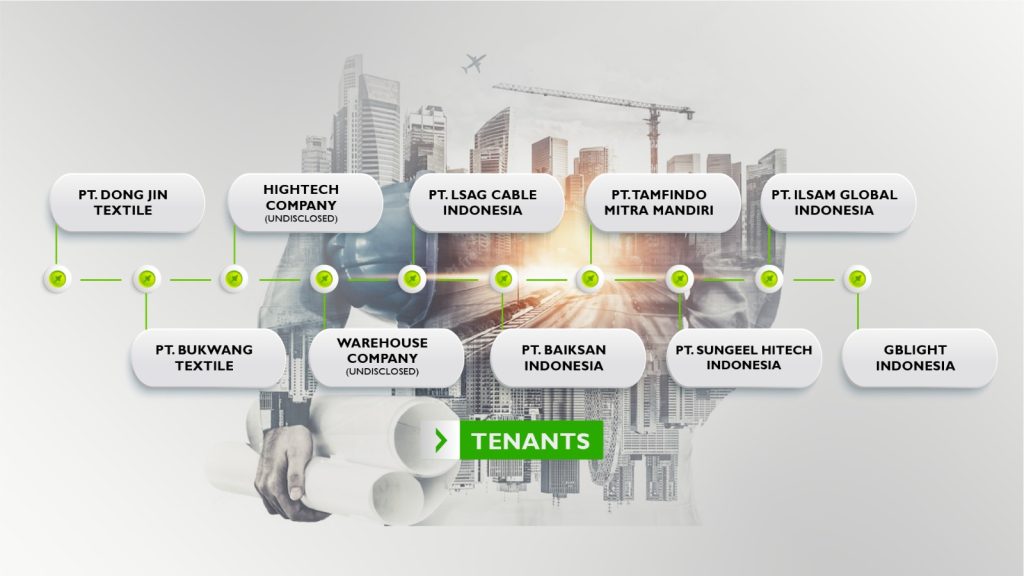 AIH has several advantages that make it attractive to investors, including:
Strategic location. AIH is on the main route of West Java, namely the Jakarta-Cikampek Toll Road. AIH is also close to Kertajati International Airport, Cirebon Port, and Tanjung Priok Port. This facilitates access to transportation and logistics for entrepreneurs.
Complete facilities. AIH provides various facilities that support industrial activities, such as electricity, clean water, telecommunications, roads, drainage, waste management, security, health clinics, mosques, banks, restaurants and hotels.
Environmentally friendly. AIH applies the concept of green industrial estate, namely an industrial area that is environmentally sound and sustainable. AIH has green land covering 30% of the total area, as well as a waste management system that meets environmental standards.
Ease of licensing. AIH has been enrolled in the KLIK (Construction Direct Investment Facility) Program, a program designed by the Investment Coordinating Board (BKPM) to simplify the investment licensing process. AIH also provides assistance for buyers to obtain the required permits and licenses.
Industrial community. AIH is a member of the Indonesian Industrial Estate Association (HKI), an association that accommodates developers and managers of industrial estates in Indonesia. AIH also has good relations with local and central governments, as well as other partners.
AIH is not only an industrial estate but also a green community that offers a high quality of life for its members. AIH provides various amenities and facilities that cater to the needs and preferences of its diverse tenants, such as:
Residential areas that offer comfortable and affordable housing options for workers and executives.
Commercial areas that provide various shops, restaurants, cafes, banks, clinics, and other services.
AIH is more than just an industrial estate. It is a green and sustainable integrated industrial estate that offers a complete solution for industrial development in Karawang. AIH is the ideal place for investors who want to grow their business while contributing to environmental protection and social welfare. AIH is the future of industrial estate in Indonesia.
If you are interested in Artha Industrial Hill and want to know more about it, feel free to contact Mr. Fahmi Rizwansyah by WA 0811-8954063. He will be happy to assist you and answer your questions.